Prossime Attività
EVAA-Webinar
The evolution of a pandemic: Risk and sense making processes during the Covid-crisis
01 July at 18:00
Join Zoom Meeting
Meeting ID: 967 7661 4254
Password: 975717
https://scientificnet.zoom.us/j/96776614254?pwd=eng1bUxPdDFUVnc0RGVQWHFrN05JZz09
Speaker:
Julian Seehauser: University of Amsterdam
I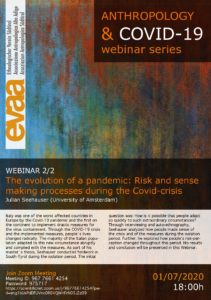 taly was one of the worst affected countries in Europe by the Covid-19 pandemic and the first on the continent to implement drastic measures for the virus containment. Through the COVID-19 crisis and the implemented measures, people ́s lives changed radically. The majority of the Italian population adapted to this new circumstance abruptly and complied with the measures. As part of his master ́s thesis, Seehauser conducted fieldwork in South-Tyrol during the isolation period. The initial question was: How is it possible that people adapt so quickly to such extraordinary circumstances? Through interviewing and auto-ethnography, Seehauser analysed how people made sense of the crisis and of the measures during the isolation period. Further, he explored how people's risk-perception changed throughout this period. His results and conclusion will be presented in this Webinar.
EVAA-Webinar
A Multispecies Perspective on Covid-19
07 July at 18:00
Join Zoom Meeting
Meeting ID: 957 5960 4313
Password: 564230
https://scientificnet.zoom.us/j/95759604313?pwd=eVpic0lESnJGVzNYTUdYdE9BOUFBdz09
Speaker:
Eben Kirksey: Deakin University, Department of Anthropology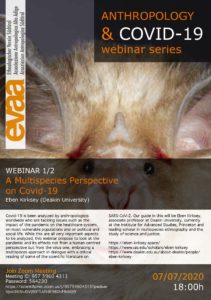 Covid-19 is been analyzed by anthropologists worldwide who are tackling issues such as the impact of the pandemic on the healthcare system, on most vulnerable populations and on political and social life. While this are all very important aspects to be analyzed, this webinar propose to look at the pandemic and its effects not from a human-centred perspective but from the virus one, embracing a multispeces approach in dialogue with a critical reading of some of the scientific literature on SARS-CoV-2. Our guide in this will be Eben Kirksey, associate professor at Deakin University, currently at the Institute for Advanced Studies, Princeton and leading scholar in multispecies ethnography and the study of science and justice. The webinar will be moderated by evaa member Roberta Raffaetà.