Lecture: Unibz and EVAA
Living mobile: exploring the role of digital media for transnational families and families characterised by mobilities
Wednesday 10 July at 14.30, UNIBZ C4.01
Organized by Prof. Dorothy Zinn, Faculty of Education, Free University of Bozen/Bolzano in collaboration with EVAA – Ethnologischer Verein Südtirol / Associazione Antropologica Alto Adige / Assoziaziun Antropologica Südtirol
Loretta Baldassar (Speaker), University of Western Australia
Jolynna Sinanan (Speaker), University of Sydney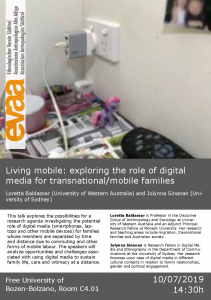 This article explores the possibilities for a research agenda investigating the potential role of digital media (smartphones, laptops and other mobile devices) for families whose members are separated by time and distance due to commuting and other forms of mobile labour. We review key literature in migration that provides evidence of the significant role of digital media for transnational families to 'feel connected' and to remain 'in touch'. We then examine literature on FIFO (fly-in, fly-out), DIDO (drive-in, drive-out) and BIBO (bus-in, bus-out) workers in the Australian resource extraction industry that tends to emphasise the problematic nature of work that involves long-distance commuting for workers and their families. We argue that by bringing together these bodies of scholarship and by examining the intersections between transnational families and FIFO families, we are better placed to understand the strategies, opportunities and challenges associated with using digital media to sustain family life, care and intimacy at a distance for other kinds of mobile families, whose experience of familyhood is characterised by periods of absence and separation.
Loretta Baldassar (bio.): She is Professor in the Discipline Group of Anthropology and Sociology at University of Western Australia and an Adjunct Principal Research Fellow at Monash University. Her research and teaching areas include migration, transnational families and Australian society. She has published widly, among which Visits Home: Migration Experiences between Italy and Australia (2001), From Paesani to Global Italians: Veneto Migrants in Australia (2005), Transnational families, Migration and the Circulation of Care (2013, with L. Merla). She is currently working on two ARC Discovery projects: Ageing and New Media and Mobile Transitions. the first examines how support networks for older people are affected by their mobility and the dispersal of their family, friends and care services. The project aim is to highlight the current and potential role that new media might play in fostering local, distant and virtual support networks of older Australians. This will help to update both aged care policy and service delivery. The project 'Mobile Transitions' examines transnational mobility amongst young people moving both in and out of Australia in order to understand its actual effects on their economic opportunities, social and familial ties, capacity for citizenship and transitions to adulthood.
Jolynna Sinanan (bio.): : She is Research Fellow in Digital Media and Ethnography in the Department of Communications at the University of Sydney. Previously, she was Vice Chancellor's Postdoctoral Research Fellow at RMIT University and Research Fellow in Anthropology at University College London. Jolynna Sinanan is an interdisciplinary scholar with a background in anthropology, development studies and creative arts. Her research focusses upon uses of digital media in different cultural contexts in relation to family relationships, gender and political engagement. Her books include Social Media in Trinidad (UCL Press, 2017), Visualising Facebook (Miller and Sinanan, UCL Press, 2017), Webcam (Miller and Sinanan, Polity, 2014) and How the World Changed Social Media (Miller et. al. 2016, UCL Press). Jolynna's current research explores the role of digital media for non-resident workers and their families in the Australian resource extraction industry.