Brixen/Bressanone
The town
The second main site of the Free University of Bozen/Bolzano is located in the charming town of Brixen/Bressanone.
The Faculty of Education, together with the annexed University Library, is housed in the new university complex in Bahnhofstraße 16/viale Stazione 16.
Brixen/Bressanone, the bishop's residence, is distinguished by its mediaeval Gothic architecture. Here you can still breathe the atmosphere of an academic, theological tradition that has lasted for centuries. The city also houses a branch of the University of Padua. Like Bozen/Bolzano, Brixen/Bressanone has always been a crossroads of various cultures.
Since the end of the Second World War, Brixen/Bressanone has experienced a spurt in economic growth while consolidating its artistic and cultural vocation. Visitors who come to Brixen/Bressanone will find a comfortably-sized town of about 18,000 inhabitants.
The mediaeval alleys and the wealth of historical references are an ideal starting point for excursions into the countryside and for practising a whole variety of sports and leisure activities.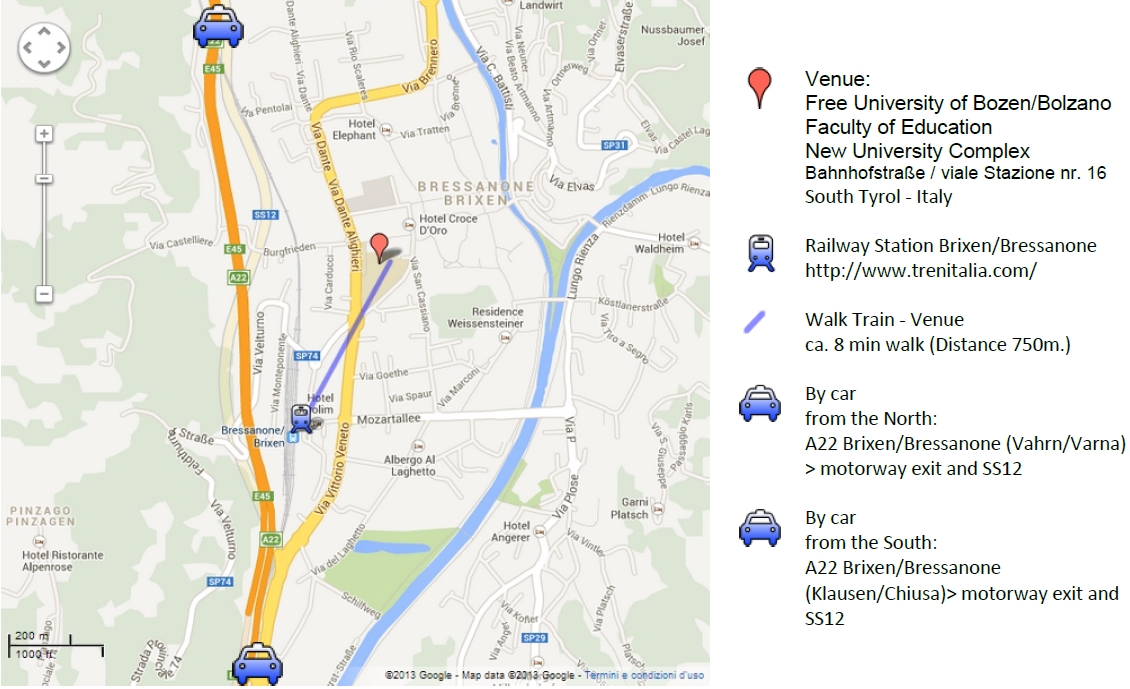 How to get to Brixen/Bressanone:
By car
from the North:
A22 Brixen/Bressanone (Vahrn/Varna) > motorway exit and SS12
from the South:
A22 Brixen/Bressanone (Klausen/Chiusa)> motorway exit and SS12
A22 Autobrennero/Brennerautobahn
By train
from the North: Innsbruck – Brenner/Brennero – Brixen/Bressanone
from the South: Verona – Bozen/Bolzano – Brixen/Bressanone
Ferrovie dello Stato (Italian Railway Information Service)
Deutsche Bahn (German Railway Information Service)
ÖBB (Austrian Railway Information Service)
By plane
Bozen/Bolzano Airport
Innsbruck Airport – distance: 40 min. drive
Verona Airport – distance: 1,30 hours drive