Cultura contadina: musei etnografici e avanguardie artistiche in Italia
Pietro Clemente e Elisabetta Rattalino
Mercoledì 9 dicembre, ore 17:00-19:00
Luogo: ZOOM (clicca)
Meeting ID: 960 5123 1393
Passcode: 289265
Pietro Clemente parlerà dei musei etnografici di cultura contadina in Italia, mettendo in risalto il valore della cultura popolare come patrimonio demo-etno-antropologico. Elisabetta Rattalino animerà la discussione e parlerà del ruolo delle avanguardie artistiche degli anni '60 e '70 nello studio e nella rielaborazione creativa e politica degli artefatti della cultura contadina e dei mondi rurali.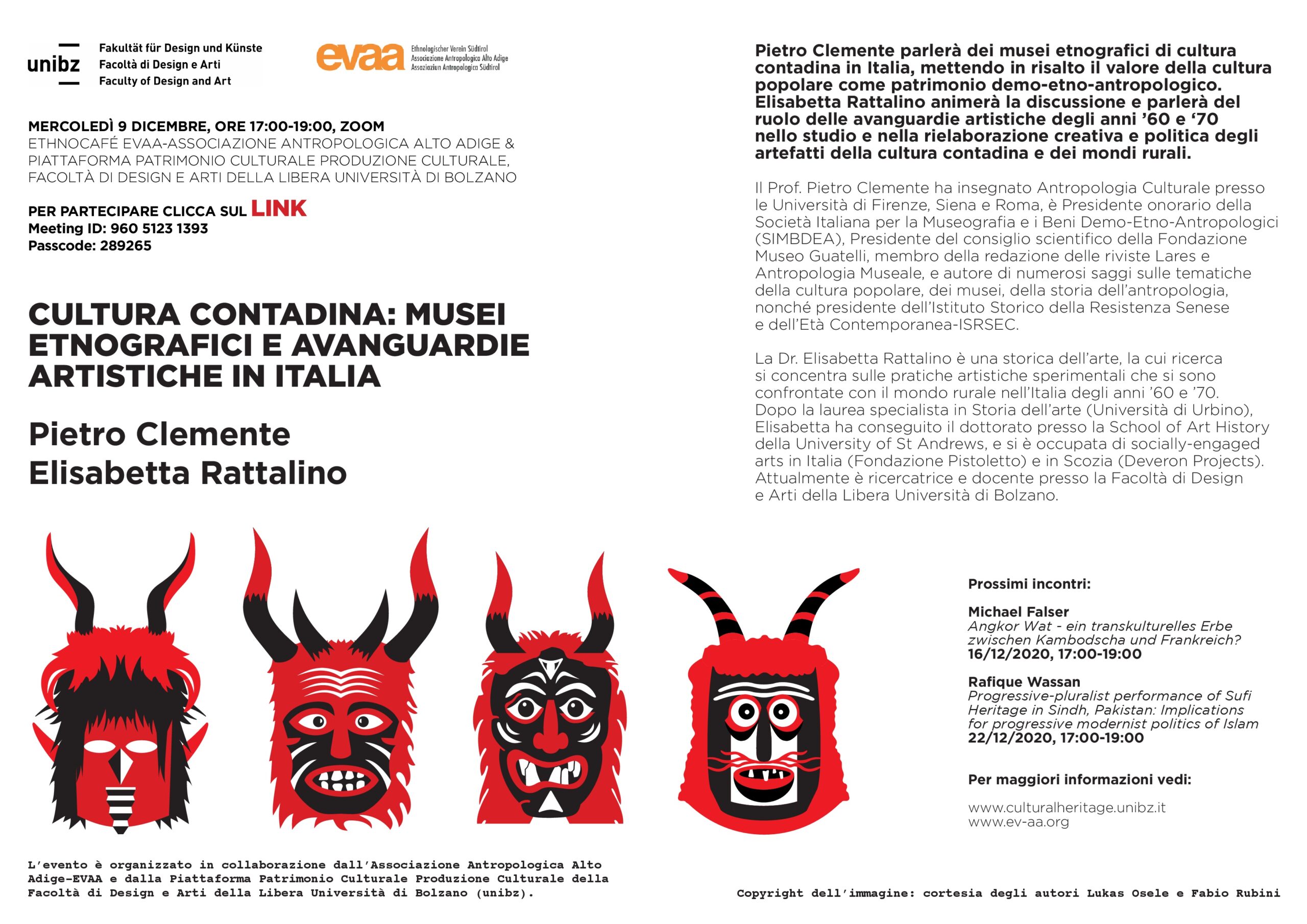 Il Prof. Pietro Clemente ha insegnato Antropologia Culturale presso le Università di Firenze, Siena e Roma, è Presidente onorario della Società Italiana per la Museografia e i Beni Demo-Etno-Antropologici (SIMBDEA), Presidente del consiglio scientifico della Fondazione Museo Guatelli, membro della redazione delle riviste Lares e Antropologia Museale, e autore di numerosi saggi sulle tematiche della cultura popolare, dei musei, della storia dell'antropologia, nonché presidente dell'Istituto Storico della Resistenza Senese e dell'Età Contemporanea-ISRSEC.
La Dr. Elisabetta Rattalino è una storica dell'arte, la cui ricerca si concentra sulle pratiche artistiche sperimentali che si sono confrontate con il mondo rurale nell'Italia degli anni '60 e '70. Dopo la laurea specialista in Storia dell'arte (Università di Urbino), Elisabetta ha conseguito il dottorato presso la School of Art History della University of St Andrews, e si è occupata di socially-engaged arts in Italia (Fondazione Pistoletto) e in Scozia (Deveron Projects). Attualmente è ricercatrice e docente presso la Facoltà di Design e Arti della Libera Università di Bolzano.
L'evento è organizzato in collaborazione dall'Associazione Antropologica Alto Adige-EVAA e dalla Piattaforma Patrimonio Culturale Produzione Culturale della Facoltà di Design e Arti della Libera Università di Bolzano (unibz).
A Multispecies Perspective on Covid-19
Eben Kirksey: Deakin University, 07 July 2020
Abstract: Covid-19 is been analyzed by anthropologists worldwide who are tackling issues such as the impact of the pandemic on the healthcare system, on most vulnerable populations and on political and social life. While this are all very important aspects to be analyzed, this webinar propose to look at the pandemic and its effects not from a human-centred perspective but from the virus one, embracing a multispeces approach in dialogue with a critical reading of some of the scientific literature on SARS-CoV-2. Our guide in this will be Eben Kirksey, associate professor at Deakin University, currently at the Institute for Advanced Studies, Princeton and leading scholar in multispecies ethnography and the study of science and justice. The webinar is moderated by EVAA member Roberta Raffaetà.
The evolution of a pandemic: Risk and sense making processes during the Covid-crisis
Julian Seehauser: University of Amsterdam, 01 July 2020
Abstract: Italy was one of the worst affected countries in Europe by the Covid-19 pandemic and the first on the continent to implement drastic measures for the virus containment. Through the COVID-19 crisis and the implemented measures, people ́s lives changed radically. The majority of the Italian population adapted to this new circumstance abruptly and complied with the measures. As part of his master ́s thesis, Seehauser conducted fieldwork in South-Tyrol during the isolation period. The initial question was: How is it possible that people adapt so quickly to such extraordinary circumstances? Through interviewing and auto-ethnography, Seehauser analysed how people made sense of the crisis and of the measures during the isolation period. Further, he explored how people's risk-perception changed throughout this period. His results and conclusion are presented in this Webinar.